The signature collection effort to get on the Aldermanic ballot continues this Saturday — join the campaign at our rally point on Saturday at Ricobene's 252 W. 26th St at 10AM and help us collect the signatures we need to make sure Maureen is on the ballot on Election Day February 24th.
(Photo Credit: The Antitourist)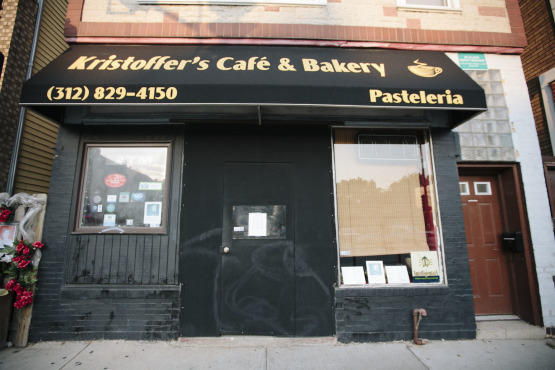 Sullivan Volunteers: Petition signature gathering begins again tomorrow – come on out to Kristoffer's Cafe and let's keep on pace for our signature goals.
At Wednesday night's town hall meeting, Maureen Sullivan addressed a crowded house at Powell's Books, touching on the special issues of University Village including development, the homeless, architectural and historic preservation, transportation, dog parks and others. She took a wide range of questions from a lively group interested in the political future of their ward in the era after redistricting.
The University Village area along with University Commons and UIC now lie in the boundaries of the 11th Ward, after the 2012 redistricting. These areas extend the 11th Ward to the north along Halsted St. to Harrison. Questions about redevelopment along the entirety of South Halsted (from Harrison to 47th) were answered and issues such as abuse of TIFs and SSAs and the right way to create sustainable economic development were touched on.
At no time did I support the Chicago Helicopter Express heliport project.
How could I?
When the company arrived, it treated us all like simpletons. And their champion, Alderman Jim Balcer, who had long before caused me to decide to run against him exactly because of his many bad decisions, was making another mistake here. He was unduly impressed by the company's vague promises of economic benefit and was entirely willing to sell out the neighborhood and get nothing in writing for it.
In February of this year, 11th Ward voters and I were surprised to learn that a suburban company called Chicago Helicopter Express (CHE) had purchased land on the Chicago River at Halsted with the intent to open a heliport. I learned, at that time CHE was in an accelerated zoning approval process, aided by Alderman Balcer and the politically connected downtown law firm they had retained.
The company's CEO Trevor Heffernan's outreach to our community was a failure from the start.  He attended a meeting of the Bridgeport Alliance but left before his turn to speak, appearing surprised that the group's own agenda needed to be addressed before his own.
Later, on March 3, Heffernan, along with the company COO Tom Carto, attended a meeting of the Palmisano Park Advisory Council, where I serve as President after my most recent election to the post. This time, Trevor waited for the park business to complete before presenting promises about CHE's business plan.
At the end of a short presentation, the CHE team asked our council members to sign pre-printed letters of support for their business plan.
Suspicious, I politely declined to sign, citing a lack of information. None of the elected officers of the Palmisano Park PAC signed letters of support.
I recall discussing with the Palmisano council after the meeting the presumptuousness of CHE. Here was a company facing a zoning vote in the City Council for a special and high-impact use of 11th Ward land near our park, and they believed they would obtain support from us minutes after making vague promises about noise (it wouldn't be bad, they said) and jobs (there would be at least 50 jobs, they said).
I felt like I was being hustled.
At later community meetings I and my Park Council Vice President attended and spoke at, including meetings at St. Barbara's and Trinity Lutheran, I saw Heffernan and his cast of consultants and his lawyer continuing to get off on the wrong foot with the community. They repeatedly assured the community of the great benefit and low noise of their project.
The problem was, their story kept changing. Fifty jobs became 35. Their business plan, presented early on as being mainly tourist flights, changed several times during these presentations to include a great number of charter flights.
Promises to bring tourists to South Halsted were never accompanied with anything resembling a plan.
Also unattractive was the fact that Heffernan's and Balcer's tempers were cut to the quick several times.  Obviously disgusted at having to go hat in hand to ordinary people, and unused to having their ideas challenged, both Heffernan and Balcer took to chiding the residents.  Heffernan at one point during the Trinity meeting showed his true colors and snarled at a citizen opposing his company's plan: "I don't have to be here."
On March 20th, along with Palmisano Park Council Vice President Rob Warmowski, I attended the first City Council voting session on the CHE project. At my direction, Rob spoke against the vote on the heliport. We called for the vote to be delayed, we called the company's approach insufficient, and we characterized the entire process as giving the 11th Ward "the bum's rush".  Rob also appeared on TV saying the same thing.
Statements that criticized the CHE project and the City Council approval of same were published at my direction and approval here and here earlier this year.  Our statement on the floor of the City Council criticizing the CHE project and asking to put off the vote is entered into the City Council record.
While my opponent Patrick Daley Thompson was, as usual, nowhere to be found at any of the important community meetings on this heliport, everybody who attended the meetings I or Rob spoke at should know my position, because it is crystal clear:
I never, ever supported the CHE heliport project.
(Photo: Google Streetview)
On Thursday night before a packed house at Chief O'Neil's, Maureen Sullivan received her first major endorsement in her campaign for 11th Ward Alderman. Progressive political action committee Democracy For America's North Side chapter cast 35 votes to endorse Maureen amid wild cheers and applause.
Sullivan, who had addressed NDFA the month before, missed a unanimous vote by only one delegate who abstained for not having seen her address to the group.
At the endorsement, supporters spoke in favor of her campaign and even had some choice words for a competitor whose late-entry platform had been noticed to have striking similarities to her own.  Maureen has received campaign training from DFA's national team in the past and has worked on NDFA-endorsed candidacies including that of Rob Martwick (IL-19th) and Jay Travis.
Democracy For America is a progressive political action committee headquartered in South Burlington, Vermont and was founded by former Democratic National Committee Chairman Howard Dean.
Said Sullivan: "I'm thrilled to accept this endorsement and I'd also like to mention another candidate who was also endorsed that night. My congratulations go out to CM Winters, who is running for 21st Ward Alderman. She's a friend, a fellow South Sider and a big part of the progressive wave coming to retake the City Council in February."
Curtis Black's profile piece published today in the Chicago Reporter says it all:  Maureen Sullivan is the popular progressive activist poised to beat the downtown Daley machine on its own turf.
In the first major piece on her Aldermanic race, Sullivan's clear alternative to the 11th Ward leadership and its tendency to do nothing but claim credit is illustrated by Black:
"Bridgeport native Maureen Sullivan, who has founded civic, business and park groups, and organized against school closings in Bridgeport, describes a local political elite that has become too comfortable with the status quo and neglected the neighborhood.
Sullivan may represent an approach we'll see from more aldermanic candidates this year: emphasizing the local impact of citywide policy issues like education and TIFs along with ward service concerns — and tapping into the growing sentiment against Mayor Rahm Emanuel's policies.
She calls the mayor "a Wall Street banker from Wilmette who wants to help his friends become even wealthier at our expense" and attacks the "rubber stamp City Council" including retiring Ald. James Balcer, who's backed Emanuel in 100 percent of contested council votes."
"Balcer announced his retirement shortly after Sullivan entered the race, throwing his support to Patrick Daley Thompson, grandson of the original Mayor Daley and a commissioner of the Metropolitan Water Reclamation District since 2012. Thompson's name is featured prominently, along with Balcer's and that of his uncle's, ward committeeman John Daley, in the windows of the 11th Ward Democratic Party building at 36th and Halsted.
A downtown corporate attorney who handles property tax appeals and represents developers seeking TIF money, Thompson said his real estate and development experience would be an asset to the ward. But it didn't seem to help a few years ago, when the Better Government Association identified Thompson as one of several politically-connected individuals who'd been granted homeowner exemptions for investment properties. Thompson pled ignorance and paid the back taxes."
Read the entire Curtis Black article on Maureen Sullivan here.
Volunteers for Maureen Sullivan!  Thursday September 4th is the kick-off party for you!
"Sullivan For 11th Ward Alderman" is hosting a kick-off party and training session for all volunteers. We will be offering training on the petition process and the basics of how to register a voter.
Please come out and bring some friends!
We have rented the 1st floor of the hall at First Trinity parish at 643 W. 31st St, enter through the parking lot.
Light refreshments will be served.
Parking is limited, but you should be able to find street parking on Lowe and Union Ave.
Questions?  Ask at campaign@sullivan11thward.com
Even if you're lucky enough to have one or two part-time jobs in this "recovery" economy, chances are you're still struggling to make ends meet. We live in a time where working people are in the fight for their lives, only one slip-up away from disaster.
That's a reality that has consequences — and casualties. Didn't your heart break when you read the story from New Jersey about Maria Fernandes? The 32 year old worked four part time jobs and lost her life when she tried to get a few hours of sleep in her car between shifts.
Maria died in her Dunkin' Donuts uniform.
Shocking stories like this and so many others from our own neighborhoods are reminders that in these times, hard working people are undervalued and taken advantage of more than I can ever remember.
Without working people, nothing happens. No wealth is created for anybody.
That seems so obvious, doesn't it?
Why, then, do so many of our leaders act only in the service of big business and not the workers that create the revenues that big business earns?
Today on Labor Day, we celebrate the people who make our country's economy possible.
But I want our workers celebrated every day. I want our political leadership to stop selling out to the people who cut working people's wages, who play games with their working schedules, who threaten them and who move better jobs overseas so workers' choices dwindle.
My opponent in this race, Patrick Daley Thompson, worked for years for a law firm that actively helps companies send jobs overseas. They brag about it today.
Today is Labor Day. The election in February is months away, but during that time, I want you to think about who is a friend to hard working people in this election for 11th Ward Alderman.
And to think about who isn't.
Maureen Sullivan is running for Alderman of Chicago's 11th Ward.
Related articles
Jay Levine at CBS2Chicago.com reports that 11th Ward Alderman Jim Balcer will not run for re-election, owing to health issues stemming from his service in Vietnam.
Balcer tells CBS 2 Chief Correspondent Jay Levine that he's stepping down to pursue treatment for Post Traumatic Stress Disorder stemming from his military service in Vietnam.
Balcer, a former Marine, was awarded a Bronze Star for heroic acts during combat.
Upon hearing the news, Maureen Sullivan, candidate for 11th Ward Alderman, issued a statement:
"Along with so many in our Ward, I salute Jim Balcer for his distinguished service to our country and for his sacrifice of his health. I am saddened that he faces this personal challenge today and it is my sincere hope that he recovers as soon as possible. Get well, Jim."
Above: In happier times: Maureen Sullivan and Alderman Jim Balcer share a copy of Maureen's new book at a 2012 CTA Board meeting. Both addressed the board that day on the topic of the 31st St. bus.
Photo: Josip Trutin
The popular progressive challenger receives a sharp expansion of support, gathers volunteers
After kicking off her bid for 11th Ward Alderman one week ago, Maureen Sullivan's campaign is already reaching thousands of voters.
Gathering dozens of cheering supporters in front of the ailing Ramova Theater last Monday, Sullivan started things off by calling for a major change in the local political leadership, unveiling her campaign platform and promising to  bring accountability to the Alderman's office.
The message is very well-received.  Online engagements are off the charts for the campaign, says campaign Communications and Policy Director Rob Warmowski.
"We've reached nearly ten thousand people in only the first week," said Warmowski.  "Social media, web and community channels are buzzing about her candidacy, and the conversation is in her favor.  People in the 11th Ward are already excited about her thanks to her many years of community service, and people who are just learning about her are impressed by her record and platform. She's inspiring volunteers to stand up and ask to help."
 Gathering Volunteers On The Eve Of Petition Circulation
Snagging over 600 likes on Facebook right out of the gate is great, but the campaign runs on real-world support — and that means showing up and helping out.
The campaign's volunteer force will be hitting the streets starting this week to gather signatures for Sullivan's position on the February 24th election ballot. Readers wishing to join up and help Sullivan get on the ballot can sign up at the campaign volunteer page.
How many volunteers does the Sullivan campaign have currently?
"Dozens and growing every day" says Warmowski. "But there's always room for more."
Related articles