Fact: The ideas the Sun-Times credits to my opponents in this weekend's piece have been part of my platform since Day One.
Fact: I am the only candidate who released a platform on the day I announced.
Fact: I am the only candidate who hasn't changed my platform to match my opponents.
What does this say to you?
The Ramova Rookie
My thanks to the Sun-Times Editorial board for the chance to interview last week. To the board, I'd like to mention an editorial item.
There is a missing word in the above Sun-Times article. The word is "also".
It belongs after the words "John Kozlar" and before "wants to the restore the Ramova Theater".
That word should be there, because as our neighbors are very well aware, for no less than ten years, I have been fighting for that theater –and I've been winning funds and awards for it.
So it's only fair to say Mr. Kozlar also wants to restore it.
More importantly, it needs to be said that Mr. Kozlar has to date fielded no realistic nor even professional-grade plan.
Meanwhile, my plans have been honored twice by the Illinois Institute of Technology, and my own stewardship of the building is what resulted in $330,000 in damage stabilization funds to repair holes in its roof.
With all due respect, the fact is my opponent John Kozlar is a Johnny-come-lately to the Ramova cause.
And our neighbors know it, even if the Sun-Times doesn't.
Patrick Daley Thompson: Simply Not Focused On The 11th Ward
It was about one week ago when I reminded the packed crowd at the Trinity candidate forum that I was the only candidate who had translated any part of my campaign website into Chinese and Spanish.
Sure enough, look at what has magically appeared at Patrick Daley Thompson's campaign website in the time since: language translation.
This says two things to me:
First, it says that I lead this campaign. I literally lead it, meaning that I show the challengers what to do — then we all watch them do it.
Like my Ramova work, this imitation is a sincere form of flattery.
Second, it says very loudly that for the first five months of this campaign, Patrick Daley Thompson never considered the thousands of 11th Ward residents who speak Chinese or Spanish. He did not notice them. He did not think of them. The needs of thousands of our neighbors did not cross his mind.
This is totally unacceptable from someone who claims to represent the 11th Ward and is asking for the job.
It speaks to a mindset focused anywhere but here. It suggests he's thinking about somewhere else.
Where is he focused?  I think it's on downtown.
I think he's focused on his big shot legal clients who come seeking easy tax treatment and handouts of our hard-earned tax money. Focused on the Wacker Drive high rise condo developments that he prints and sends pictures of in his mailings.
But we need an Alderman who is focused on us — not past us.
I will be that Alderman. That is exactly why I'm running.
Running Out Of Time 
We have three weeks before the election on February 24th. That means my opponents are running out of time to take my work and pretend it's their own.
Go ahead, guys — there's plenty more where that came from.
Just remember: we all see you doing it.
[Photo: Derek Johnson]
Come on out to next Sullivan fundraiser is this Sunday February 1 at 3PM  — we'll be tailgating and watching the Super Bowl right at our own office – and you are invited!
We will be tailgating at 3PM with beer and refreshments and watching the game at 5. Join us and meet Maureen and Team Sullivan and enjoy the Super Bowl at 3440 S. Morgan! Suggested donation: $25.
Winning the Chicago Green Party endorsement in the race for 11th Ward Alderman over her opponent Metropolitan Water Reclamation Commissioner Patrick Daley Thompson is Maureen Sullivan, parks leader, public health activist, author and businesswoman.
Sullivan's resume on environmental issues is strong. She is the three-time elected President of the Palmisano Park Advisory Council. She has been highly active on environmental and public health issues in the ward, including leading the volunteer effort called Bridgeport Clean And Green (click here for details). Sullivan was also highly active in the multi-neighborhood effort to end the health hazard of the nearby coal plants (click here for details.)  She also created and manages the annual summer festival Bridgeport Air And Water Show in Palmisano Park.  She has spearheaded capital and safety improvements to the park and to its sister McGuane Park.
In the wake of the Illinois Green Party's announcements earlier in the month, the Chicago Green Party (CPG) announced their endorsements this week which included Mayoral Candidate Bob Fioretti, who Sullivan has appeared with on the campaign trail.
"Stewardship of our water and air is critically important to me, and I am proud to accept this latest Green Party endorsement in recognition of my hands-on work," said Sullivan. "The balancing act needed to protect our environment in a densely populated Ward is one my record shows I am uniquely qualified for."
A little fun is what's needed in a political campaign sometimes, even if the underlying issues are serious. When I think of fun (and change and power and overthrowing an old regime), I think of the music I love. I think of the punk and post-punk music that came out of England and the US in the late 70s and 80s. I think of the hundreds of shows I've seen and of the great bands that changed the lives of so many.
And I think of the musicians from these bands, some of whom I got to meet over the years and become friends with.
Martin Atkins is among Bridgeport's most internationally noted arts figures. He is an incredible drummer, has appeared with multi-million selling bands and is a world-class educator and lecturer on cultural business. And he's lived in Bridgeport for the last fifteen years with his beautiful family. I've been honored to be friends and a fellow traveler with him for many years — not even counting the time before I knew him personally and only knew his tremendous work with favorite bands like Killing Joke and Public Image, Ltd.
Punk rock is an attitude, not a style. It's about doing things yourself, and not waiting for someone else to do it for you. Don't like the music you're hearing? Start a band. Don't like the way the neighborhood looks? Pick up some garbage. Don't like the candidates you're seeing run? Run yourself or back up someone who sees things your way. It's all one continuum, a way of thinking that I believe in.  It says: we can change things. Be real, be active and don't take word from royalty as gospel.
If these themes seem familiar in my campaign, good. That just means you've been paying attention.
Our vibrant and growing arts community certainly understands this. And Martin is a perfect example of how arts has enhanced our diverse and working-class community without our losing any of what makes us proud to live here. Creative people and artists are family people, educators, good neighbors.
In fact, the only area where the 11th Ward has been lacking in creativity is in our government.
I'm going to change that.
So enjoy our campaign video clip starring Martin Atkins of Nine Inch Nails, Killing Joke, Ministry, etc. Thanks and hugs, Martin!
The Sullivan campaign is proud to announce its latest endorsement, this time from progressive powerhouse Grassroots Illinois Action, whose dynamic and smart work pushing back against the rubber-stamp city council is incredibly valuable.  
"I am a fan, both of their work and of their principles," said Sullivan. "I am again honored that bona fide progressive activists recognize my candidacy as being dedicated to working families and the issues that affect them. I am very proud to stand with GIA, Reclaim Chicago, Chicago Teachers Union, the Illinois Greens and NDFA to push back against the business-as-usual, pay-to-play politics that are taking things away from working families only to give them to already wealthy players whose lobbyists work City Hall and Springfield."
GIA runs TakeBackChicago.org, our favorite tool to discover the voting record of Aldermen, among other initiatives.
Yesterday's forum at Trinity Church resurfaced the community's concerns about the CHE Heliport being built at 2420 S. Halsted.
My opponents had a lot to say. But they're a day late and a dollar short on this.
John Kozlar seemed to say he was against the heliport. In fact, John Kozlar seems to say a lot of things, often loudly.
But the record says something more loudly: when his website went up on September 10, the words "heliport" and "noise" were completely missing.
Patrick Daley Thompson said at the forum that he was "against" the heliport.  But the very next thing he said was to describe the "covenant" that the 11th Ward office at 37th street had arranged with the helicopter company.
In other words, he was "against" it, but not "against" it enough to stop it.
He cut a deal instead.
With "against" like that, who needs "for"?
And what is in this covenant deal?  Who knows? Apparently that's not our concern — we only live here!  We're not to be told by the grand and mighty machine in its infinite wisdom.
The fact is, when it mattered, Patrick Daley Thompson was nowhere to be found on the heliport.  He attended no meetings I saw, and I was at most.
Patrick Daley Thompson's office is a shared office on 37th St. with Alderman Jim Balcer. To imagine that that Balcer's support of the heliport was different than what Thompson wanted is to totally misunderstand what the machine is, and how the machine works.
The ordinary people in the 11th Ward understand the machine very well. And they also understand this fact:
There is only one candidate in this race who was always against the CHE heliport.
It's me.  It's in my record.
You can read what I wrote about it on September 16th right here:
I Never, Ever Supported The CHE Heliport

http://sullivan11thward.com/i-never-supported-the-che-heliport/

Remember, I'm not anti-business. I'm anti-B.S.
Thanks for paying attention.  Somebody has to.
Sunday, January 25: Join neighbors from throughout the 11th Ward, as we host an afternoon of real, important, 11th Ward questions for our aldermanic potentials. 

This is a forum–not a debate, and is non-partisan. Candidates will be allotted equal time for their responses, and be aware of discussion topics prior to the event.

The forum will be moderated by former Canaryville librarian, Rebecca Berg.

John Kozlar, Patrick Daley Thompson, and Maureen Sullivan have committed to being present. 

Translation for Spanish and Chinese languages will be available. 

Brought to you by Brigeport Alliance and Coalition For A Better Chinese American Community, with Active Transportation Alliance, Asian Americans Advancing Justice-Chicago, Bridgeport Pride, Pilsen Alliance, PERRO, UIC- LGBTQA, Raise Your Hand, & Roots of Justice at UIC
芝加哥市11区(桥港区)区长候选人论坛将于2015年1月25日,星期日下午三点-四点在31街643W号的First Lutheran Church (Lowe与31街交界)举行。该论坛将为11区选民提供一次市政府选举前夕11区竞选候选人与民众面对面直接交流的机会。
该候选人论坛并不是政治辩论会,且无党派参与。届时三位区长候选人- 寇梓乐(John Kozlar),苏立文(Maureen Sullivan), 汤普森(Patrick Thompson)将出席该论坛与民众会面,并在等同的指定时间内回答大家关心的社区问题。
论坛将由前金丝鸟区(Canaryville)社区图书管理员—-丽贝卡•伯格(Rebecca Berg)主持。
论坛免费对公众开放,现场全程提供中文同声翻译,有残疾人座位。如果您想做活动志愿者或获取更多活动信息,请联系fiona_feng@caslservice.org
论坛承办机构:华埠更好团结联盟,Asian Americans Advancing Justice-Chicago, Bridgeport Alliance, Bridgeport Pride, Pilsen Alliance, Raise Your Hand, Roots of Justice at UIC.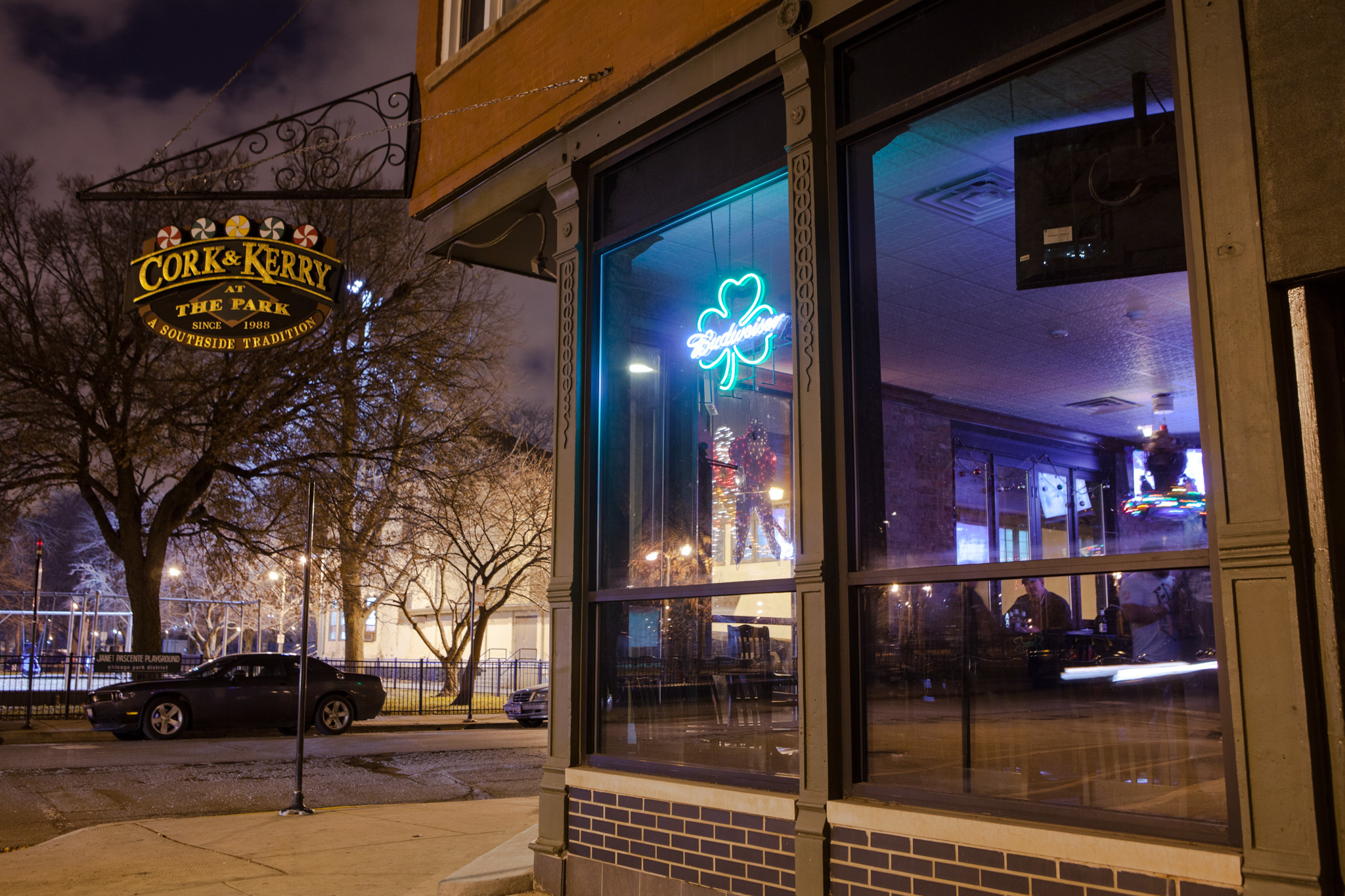 Meet Bob and Maureen! Progressive powerhouse for Mayor Bob Fioretti will appear in the 11th Ward with Maureen Sullivan at Cork & Kerry, 3258 S. Princeton Friday January 23rd.  It's a gathering of Bridgeport, Canaryville and Armour Square residents set to talk about the Mayoral race and what a Rahm-less Chicago is going to look like if we all do our part! See you at 33rd and Princeton – and don't forget to drop by the Sullivan office grand opening the same day from 3:30-10 at 3440 S. Morgan!
Come and celebrate the opening of the Maureen Sullivan for Alderman campaign office at 3440 S. Morgan in the heart of the 11th Ward's arts district.
Showing will be some of Chicago's finest artists — Marvel at the poster mastery of Dan Grzeca! Swoon at the urban naturalist photography of Chris Jones! Delight in the surrealist pieces of Carlton Harris!
Come for the light refreshments and stay for the lively talk about the 11th Ward race and the issues in the community!  Get there!
Suggested donation: $10.
On January 21 at 7PM, Maureen Sullivan is scheduled to appear at a Aldermanic Candidate forum put on by the Canaryville Improvement Association. The event is free.  A piece in DNAInfo about the event can be found here.